Dry Bulk Tanker Trailers
Leasing, Sales and Rentals
Tankmart International is a Quebec company founded in 1983 by Mr. Kavanagh and Mr. Laberge, two men with extensive experience in the use of tanker trailers for the bulk transportation industry. Today, the company has three subsidiaries, one in Burlington servicing the Ontario region. Tankmart supports the US market as well, and has become the undisputed leader of the Canadian tank industry.
Tankmart has been providing tanker parts, sales, leasing and long term rental solutions for the petroleum tanker industry since 1983 - over 37 years. We offer a large growing fleet of over 500 high quality tankers in various configurations including new and used Dry Bulk Tanker Trailers.
A dry bulk tank trailer is used to transport a variety of
Cement
Flour
Plastic Pellets
other non-dangerous goods.
Dry bulk tanker compliance
We can help you meet the various compliance issues.
Since these type trailers don't transport dangerous goods they are considered non-code tankers.
Dry bulk tanker configurations
Dry bulk tankers have an aluminum barrel with 1 or multiple compartments with capacities ranging from 1000 cu.ft. to 2800 cu.ft. Depending on your needs, you can have 2 to 4 axles or a B-train
Tankmart provides a flexible approach to leasing, whether you are a fleet manager, new to the business or have had a long term operation. We support you in meeting your specific business requirements anywhere across Canada. Tankmart deals with Remtec, Tremcar, Polar Tank, Tankcon, Heil and other major tank trailer manufacturers. We buy in bulk to ensure we have the inventory you are looking for.
We can help in the sale and trade of your existing tankers or trailers and offer trailers to help you temporarly to fill the gap in your delivery schedule.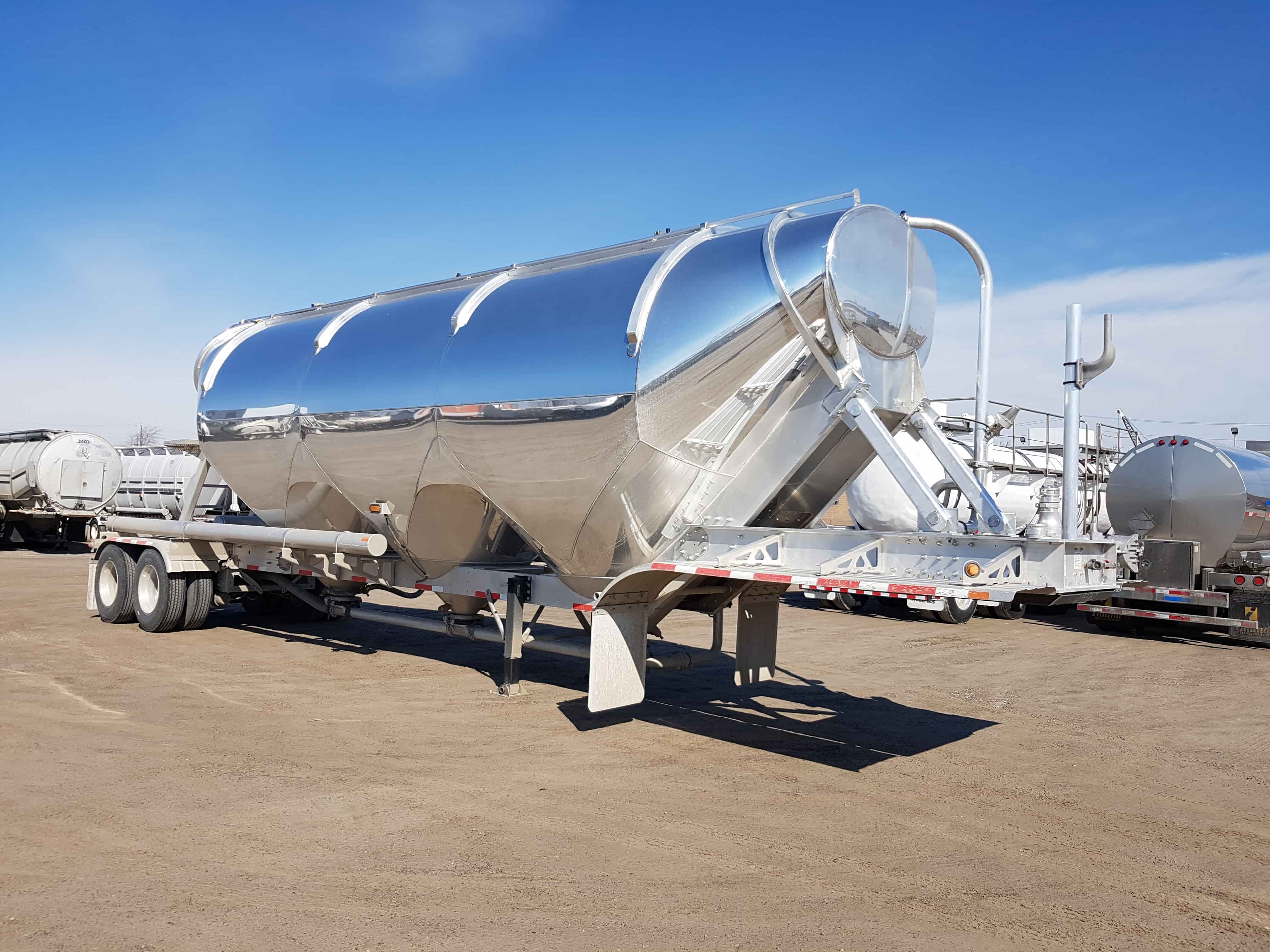 Heil Dry Bulk Tanker, (2021)
Capacity: 1614 cu.ft.
Dry Bulk Tanker Trailer, Quad Axle
Capacity: 2500 cu.ft.
Our pick-up and drop-off locations:
Tankmart International
4420, South Service Road, Burlington (Ontario)
Citernes Experts inc.
4545, av. des Industries, Laval (Quebec) H7C 1A1
Service Remtec inc.
3560, 39e Avenue, Montreal (Quebec)