We have qualified professionals that can perform a wide range of maintenance and inspections such as B-620/ HM-183, P.E.P, PM (preventative maintenance inspections)
Our experts can handle all kinds of trailer modifications and problems- repairs to air systems, welding on pressure vessels, refitting chassis frames and suspensions, repairing electric systems, making modifications to tanks, retrofitting steering axles. We are also specialist in diagnostics, repairs and programming of RSS/ABS systems and overfill protection systems.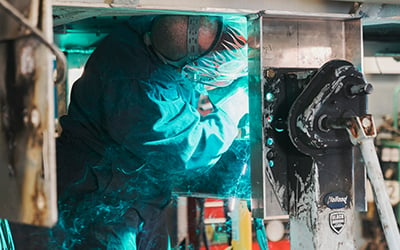 Why Us ?
Our mechanics have all the proper certifications and undergo continual training on the latest developments in tank trailer repair and maintenance industry. Our priority is always our client whether its helping with warranty claims or performing the work in a timely manner. Our first-class methods help identify areas of concern and help you make the best decision.
Did you know ?
Did you know that any repairs done on a tank component that retains lading or that contributes to the structural integrity of the tank must be performed by a facility that holds a current Certificate of Authorization from the National Board of Boiler and Pressure Vessel Inspectors for the use of the "R" stamp! All our shops hold that certificate. Don't leave your tank repairs in the hands of uncertified facilities!
In order to retrofit your trailer with a steering axle you need to be certified with the National Safety Mark Authorization.
Our B-620 inspections are done using water which increases the possibility of finding potential leaks and problems unlike many other companies in the industry.
Certifications/Qualifications
CSA B620-09 CERTIFICATION/ US DOT HM-183 CERTIFICATION
NATIONAL BOARD OF BOILER & PRESSURE VESSEL INSPECTORS (R-STAMP)
NATIONAL SAFETY MARK AUTHORIZATION
P.E.P. CERTIFIED MECHANICS (SAAQ)
ONTARIO COLLEGE OF TRADES CERTIFICATION
ONTARIO MOTOR VEHICULE INSPECTION STATION LICENCE
TECHNICAL STANDARDS & SAFETY AUTHORITY (ONTARIO)
Locations
We have three repair centres in the Montreal area and one in Burlington, Ontario. Select the one that is more convenient for you.
Service Remtec
Anjou repair shop.
The Service Remtec Anjou repair shop is located at 7887 rue Grenache door #15-17, in Anjou. Its hours of operation are Monday to Friday, 6:00 AM to 6:00 PM. For information, call (514) 353-1417 and ask to speak to Dave Craig
Need a maintenance Expert ? contact one now